Rolling Good Times: Unleashing the Magic of Mobile Bar Trailers!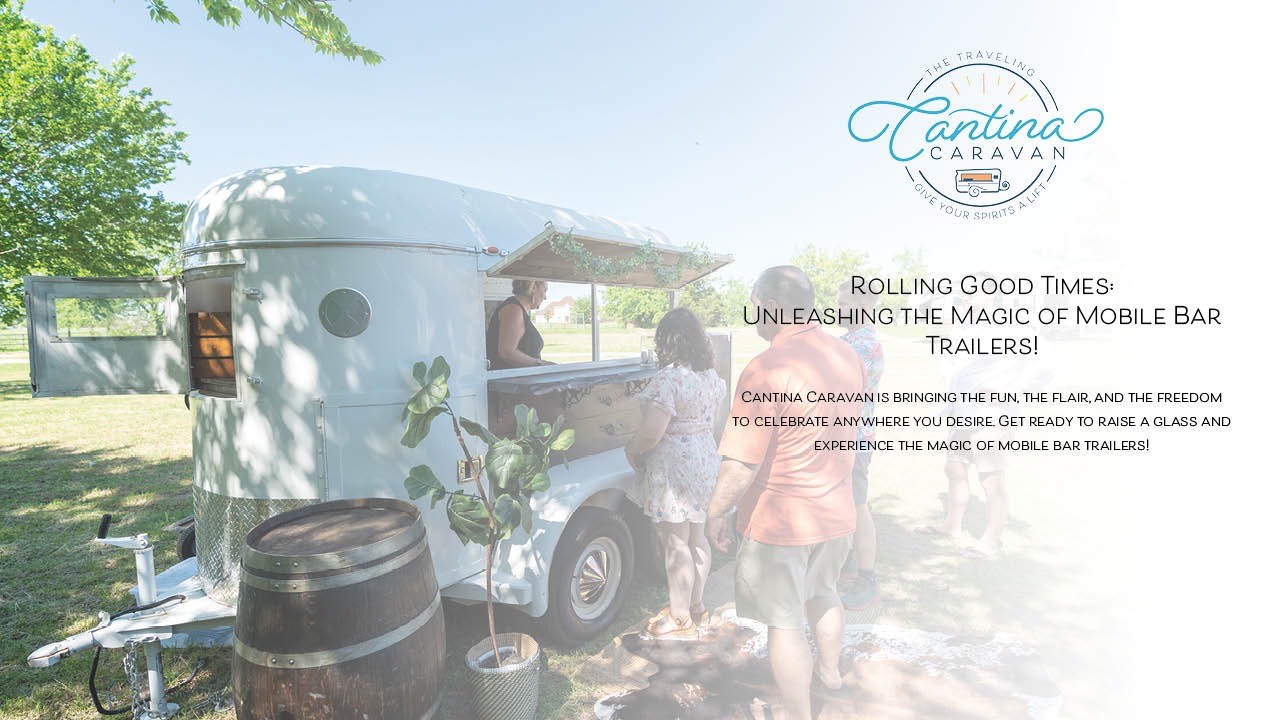 Ready to take your event to the next level? Look no further than the trend that's been rolling its way into parties, weddings, and gatherings all over – Cantina Caravan! Our vintage trailers are bringing the fun, the flair, and the freedom to celebrate anywhere you desire. Get ready to raise a glass and experience the magic of mobile bar trailers!
Unleashing the Party Potential: Gone are the days of static bars and limited venues. Mobile bar trailers offer an exciting and flexible alternative that can transform any location into a hotspot of entertainment. Imagine sipping refreshing cocktails under the stars, toasting to milestones in a picturesque outdoor setting, or reveling in the good times at the heart of a festival. These trailers are the life of the party, and they're here to make your celebration unforgettable!
Endless Possibilities: Mobile bar trailers are not just about serving drinks; they are a statement of style and a catalyst for an extraordinary experience. With their sleek designs, customizable branding options, and unique features, these trailers become a central attraction that adds a touch of glamour to any event. From vintage-inspired aesthetics to modern chic, there's a mobile bar trailer to suit every theme and ambiance.
Cheers to Convenience: Say goodbye to long lines and crowded bars. Mobile bar trailers offer a seamless and hassle-free experience for both hosts and guests. Equipped with all the necessary amenities, these bars-on-wheels come stocked with a wide range of beverages, professional bartenders, and even entertainment options like live music or photo booths. Everything you need for a fantastic celebration is conveniently brought to your chosen location.
Beyond the Party: Mobile bar trailers aren't just for parties; they also serve as unique marketing and promotional tools. Businesses can leverage the versatility of these eye-catching trailers to create brand activations, pop-up experiences, or product launches. Whether it's showcasing a new beverage line or creating a memorable customer experience, mobile bar trailers offer a dynamic platform to captivate audiences and leave a lasting impression.
The Freedom to Celebrate Anywhere: One of the most exciting aspects of mobile bar trailers is the freedom they bring. No longer confined to traditional event spaces, you can now celebrate in unconventional locations, such as parks, beaches, rooftops, or private residences. These trailers break the boundaries, allowing you to bring the party to your chosen destination, creating unforgettable memories wherever you go.
Mobile bar trailers are revolutionizing the way we celebrate and bringing a whole new level of excitement to events of all kinds. With the versatility, style, and convenience, we offer an unforgettable experience for both hosts and guests. So, raise a glass and let the good times roll with Cantina Caravan, taking your celebrations to new heights!
Cheers to unforgettable moments and the freedom to party wherever your heart desires!